Transilvania
University
of
Brasov,
Faculty
of
Technological
Engineering
and
Industrial
Management
as
a
partner
of
the
TEAL
2.O
international
project
team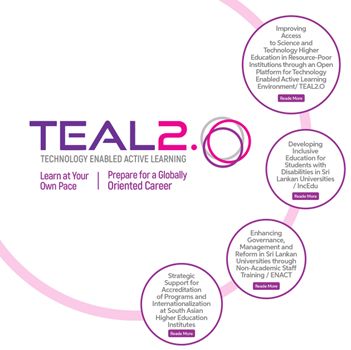 Transilvania University of Brasov, Faculty of Technological Engineering and Industrial Management as a partner of the TEAL 2.O international project team
Our university is a member of the project team Improving Access to Science and Technology Higher Education in Resource-Poor Institutions through an Open Platform for Technology Enabled Active Learning Environment / TEAL2.0, reference no. 610186-EPP-1-2019-LK -EPPKA2-CBHE-JP.
The TEAL2.O project is implemented by a consortium of 11 universities from Sri Lanka, India, Thailand, Italy, Norway and Romania, joined by a private company from Bulgaria.
The main activities of the project in 2021 included access improvement to:
university courseware and open learning opportunities in the participating countries
learning support technologies and virtual laboratories for learners in higher education institutions.